First 2 Panels Announced for Texas-European Union Business Preview Event
By Jonathan Black
Texas business leaders have expressed enthusiasm after the World Affairs Council of Austin unveiled the first two panels of the Texas-European Union Business Summit preview set for May 11, 2021 from 9:30am – 1:00pm CT. Attendees joining via Zoom will be briefed on critical opportunities within key EU markets and sectors. The first panel announced will focus on innovation occuring within the sectors of clean technology and healthcare. The second panel will explore EU market access via the Central European nations of Poland and Hungary. Continue reading to learn more about each of these panels.
Healthcare and Cleantech: Sustainable Growth and New Transatlantic Opportunities in Science Innovation
The latest trends in technology will be front and center during the May Summit preview with a panel on "Healthcare and Cleantech: Sustainable Growth and New Transatlantic Opportunities in Science Innovation." The session provides a forum for early discussions on post-pandemic collaboration between Europe and Texas on these future-defining technologies.
The United States and European Union are the world's most technologically advanced markets and high technology forms a key component of their trading relationship. As the pandemic-driven economic slowdown recedes and America's new administration makes its priorities clear, including cleantech, new technologies will come to forefront. Any discussion of America's high-tech industry must include Texas, home to several significant clusters and enterprises. Technology has been behind many of the most interesting collaborations between Texas and the EU.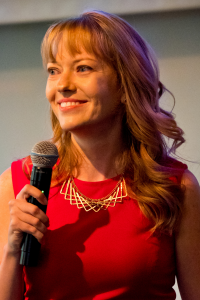 Globally, healthcare is a $10 trillion dollar industry, with Texas as a significant player. Houston is a significant healthcare and biomedical research cluster, Austin possesses a comprehensive strength in technology, and Texas hosts major research universities conducting innovative R&D. In addition to new drugs and treatments, opportunities for technological innovation include ancillary areas of healthcare such as data security, healthcare staffing, patient managed wellness, and telehealth/telemedicine.
Elizabeth Jennings
Principal, International at Venture Atlas Labs; Board of Directors,
Healthcare at Southwest Angel Network
In cleantech, Texas is America's largest wind energy producer, out-generating the three next largest producers combined. Austin ranks among America's top 10 renewable energy cities. Additionally, bipartisan calls for rethinking the Texas energy grid create a promising state-specific driver for new technologies related to reliability, maintenance, transmission, and management.
EU Market Access via Poland and Hungary
Regional panels on EU market access have consistently been one of the summit's most popular offerings. The May preview will bring together panelists Gábor Markocsány, Consul for Hungary in Houston, and Zuzanna Kobrzynski, Head of the Polish Investment and Trade Agency's Foreign Trade Office in Houston, to guide attendees through market access to Hungary, Poland, and the surrounding region.
Hungary and Poland are among the fastest-growing economies in Europe. Both nations combine lower costs of doing business with a well-educated workforce. There are differences as well, highlighted by the panelists.
Kobryznski says she will frame her remarks around five good reasons to work with Poland and Polish companies. "Economic stability and investment potential; strategic location; educated labor force; innovation nation; and a plethora of industry expertise," she explains "and why its economy is emerging relatively unscathed by COVID."
Markocsány is interested in the specifics of the Hungary-Texas relationship, "Hungary and Texas have a truly solid base in business relations, Hungary does more trade with Texas than it does with Canada, and about every fifth US dollar invested in Hungary comes from Texas."
The May 11th Texas EU-Business Summit preview's confirmed speakers and registration are available at www.texaseusummit.org