The Outing of Climate Change: How About a Policy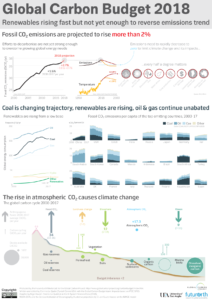 By Raye Elizabeth Ward

This week saw the follow-on meeting to the Paris Climate Accord. The news is not good; or, as the Washington Post put it, "We are in trouble." But at least the facts are clear. Yesterday, the Global Carbon Project reported that carbon emission levels are not only growing(this year, 1.6 percent), they're expected to jump another 2.7 percent, to 37.1 billion tons in 2019. The usual suspects: China in first place, the United States, Russia, and the EU. India was called out for rapidly-growing coal use.This news came on the heels of a Congressionally-mandated report the White House slipped out late on Black Friday warning of both severe environmental and economic damage if we continue on our present course.
It's time to build a shared vision of our future
Which brings me to a conversation held during the Texas Tribune's TribFest last Fall. Three climate scientists explored our resistance to managing global warming and was sponsored by BP, an early champion of carbon reduction. The panel included:
Jason Bordoff, formerly the senior director for energy and climate change at the NSA (yes, climate change impacts national security in a big way), now at Columbia
Katharine Hayhoe, the director of the Climate Science Center at Texas Tech.
Michael Webber, the Webber Energy Group, soon to be scientific and technical director at the French energy powerhouse ENGIE, on leave from the University of Texas at Austin
A policy that embraces both energy and climate
The consensus that came out of the conversation was this: We need a policy that embraces both climate and energy, a shared vision of the future in terms of food, jobs, and opportunities. Not an easy conversation, but as Hayhoe pointed out, it can start with a simple question: What do you care about? What do we share — our children's quality of life, being able to walk outside and breath, having water to drink, hunting and fishing, whatever it is that matters to each of us.
"The only reason we care about climate is because it affects things we already care about. It's not an environmental issue; it's a human issue. This is why I care about a changing climate, because it exacerbates our greatest humanitarian challenges: poverty, hunger, inequality, and more." @KHayhoe
"This doesn't matter" isn't getting us anywhere
Hard? Scary? Not applicable? It doesn't matter, as Hayhoe pointed out, the "this doesn't matter tome" approach isn't getting us anywhere in the face of mounting evidence.
Texas is Number One among the most vulnerable
Regardless of whom you ask, Texas is among the fastest-growing states in the country. Webber noted that Texans love being number one and the state also stars as number one in terms of climate vulnerability. Thanks to the Environmental Protection Agency's recent rollback of restrictive guidelines, drilling is booming along the Gulf Coast, home to both the nation's most productive oil fields and one of most environmentally vulnerable regions in the country. Houston, at the epicenter of drilling activity is still recovering from the most expensive ($125 billion and counting) hurricanes in history.
The state, which Webber described as the home of epic droughts punctuated by Biblical floods, is bound to become even more vulnerable as the rate of climate change rockets along at 50 percent faster than the rate of historical measurements. The jury is out on whether any action will come out of the upcoming legislative session, though BetoO'Rourke's willingness to spar with (and almost beat) Texas' junior senator was a hopeful note. Another bright spot: Houston has a climate action plan. But as above at the international level, so below here in Texas: Are we too late?
Leadership matters
Final note: I attended the session thanks to an invitation from Paula Barnett-Bulcao, BP's senior director of government relations and public affairs. I've admired BP for years for their vision and willingness to wear a white hat in an industry known for climate degradation. Barnett, who's been with BP for 16 years, told me that when she was starting out in the industry, BP was the company she knew she wanted to work for. Unfortunately, as is the way with white hats, BP fell off their horse in a big way with the Deepwater Horizon Oil Spill. So it was very, very good to see the company out in front again. Leadership matters – everywhere and on all levels.