Saudi Arabia Pivots toward China: The Rise of a New Global Order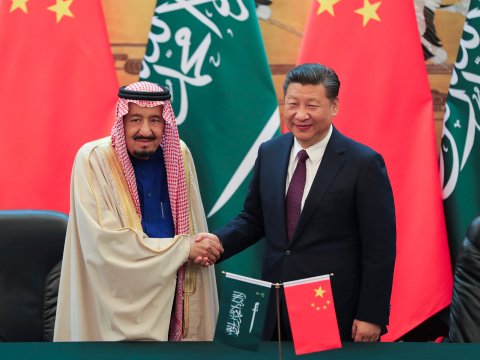 What is one to make out of King Salman of Saudi Arabia recent trip to Asia? The answer is the kingdom's worries about the economic and security impact of the inevitable shift in global geopolitics. Though, I am not surprised at this visit given the fact the kingdom is reassessing its economic and security priorities to secure its interests, I found it unusual that the Saudi king visits China before the United States, though, it has been customary for the Saudi King to officially visit the newly elected US president at the White House.
Whether by design or random coincidence, King Salman's visit to Asia-Pacific (Malaysia, Indonesia, Brunei, Japan, China, the Maldives) came on the hills of his son, Prince Mohammed Bin Salman's (third in line to the throne and defense minister) visit to Washington recently and how the Prince made it clear during his press statement that the desert kingdom is keeping all its options open; whatever that means!
While King Salman's visit to Tokyo, Japan resulted in a $25 billion technology venture with Japanese telecom giant Softbank, his visit to China seems to highlight the King's strategic thinking that is economically driven and security oriented as Saudi Arabia and China signed economic ventures worth $65 billion.
My analysis suggests that Saudi Arabia is convinced that oil prices are not going back up to what they use to be (over $100/barrel) anytime soon; thus, the time is now to diversify its economic assets. At the same time, this move will benefit China given its ongoing growing demand for Saudi oil (while it is cheap on the global market) in addition to increasing its footprints in the Middle East as Beijing bids to connect China to Europe through infrastructure developments in the desert Kingdom.
It is pivotal that we place King Salman's visit to Asia-Pacific within the context of current global political climate: ongoing South China Sea tensions, North Korea nuclear testing, US/South Korea's joint military exercises, ongoing civil war in Syria, sudden rapprochement between Iran and Egypt and the ongoing proxy war between Iran and Saudi Arabia in Yemen .
Equally important, having King Salman visits China first before the U.S. promotes China's visibility and status on the global stage. Similarly, King Salman's visit reaffirms China's desire to increase its presence in the Middle East as part of its quest for resources; thus, access to more markets and increase of its global influence on a par with its economic heft. Recall Chinese president, Xi's speech last year before the Arab league when he, indirectly, referred to American presence in the Middle East as diminishing and that China could be seen as the alternative.
Yet, economic ventures are not the only factor that drives China-Saudi Arabia relations, security ties seem to grow even more significantly. Of interest is how Saudi Arabia's Air Force is deploying Chinese unmanned attack drones. Also, the Chinese and Saudi militaries are currently holding joint counter-terrorism exercises in western China; exercises the kingdom use to conduct mainly with the US military. In a show of growing military ties, Chinese navy vessels have also visited the Saudi port of Jeddah as part of increasingly active maneuvers in the Gulf of Aden.
While China might be perceived as the new comer to the Middle East, its strategy is perfectly aligned with its long-term objectives. Its presence is felt militarily (agreements with both Iran and Saudi Arabia), economically (oil refineries contracts worth $10 billion with Saudi Arabia) and strategically (resetting the Middle East geopolitical table in coordination with Russia and Iran). Mind you that despite the ongoing conflicts in the region, Beijing has thus far managed to maintain and pursue a policy of "neutrality" keeping friendly ties with all parties despite sometimes conflicting geopolitical interests.
Of note: King Salman's visit to China cannot escape the uncomfortable political reality of how China's support for President Bashar al-Assad in the Syrian conflict and Iran might be too much for Riyadh to accept. It will be interesting to see what might emerge in the next few months regarding this newly found rapprochement (out of strategic necessity) between Riyadh and Beijing.
As I argue in my forthcoming book, Volatile State: Iran in the Nuclear Age, the question is whether China's geostrategic aspirations in the Middle will collide with that of the United States. While that scenario is possible, I lean more toward seeing this possibility become a reality in the Pacific rather than the Middle East. Yet, the US's leadership decline and disastrous foreign policies in the last fifteen-odd years send a strong message to China and Russia – for that matter – to be even more aggressive as the US struggles through this ambiguous time in its foreign policy.
Make no mistake: if China's interests are threatened to the point of, for instance, choking its economy or limiting access of its products to other global markets, it will consider the military option as last resort. And, if I may add, a military confrontation with China is no small matter.
By David Oualaalou, PhD. Founder, Global Perspective Consulting
This article originally appeared on The Huffington Post. Republished with permission of the author.