The Austin Global Business Forum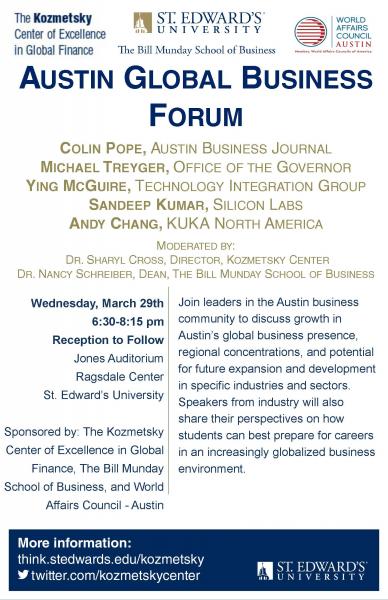 By Emma Aberle-Grasse and Betsy Mckinney
On Wednesday, the World Affairs Council of Austin cosponsored The Austin Global Business Forum. It was an intriguing and dynamic look at Austin's expanding international business engagement. The event was hosted at St Edward's University by the Kozmetsky Center of Excellence in Global Finance and The Bill Munday School of Business to discuss how students can best prepare for future industries in Austin that are rapidly expanding and globalizing.
The speakers included:
Colin Pope, Editor, Austin Business Journal
Michael Treyger, Manager, Office of Business Development, Office of the Governor of Texas
Ying McGuire, Vice President, Technology Integration Group
Sandeep Kumar, Vice President, Silicon Labs
Andy Chang, Director, Product Marketing Americas, KUKA North America
The speakers, who are leading professionals in the community, discussed what personal qualities students should have to succeed in international business, especially in a city that is attracting more and more professionals due to its cool vibe, innovation, and relatively inexpensive cost of living. Interestingly, the speakers all eagerly agreed that having an open-mind to the customs and practices of other countries and the willingness to adapt is the most important trait to success in the field. Being prepared to take up new skills along the way, but remaining resilient in your goals, is a tricky but necessary balance to achieve. They noted the importance of finding your niche within the international business sphere so you can specialize and succeed in a particular area.
The Austin Global Business Forum was a great opportunity for students to explore the international business industry in the scope of Austin, Texas and perhaps begin to plan the mark they will make on the ever-growing and changing market.
WACA Young Professionals and St Edward's University students Emma Aberle-Grasse and Betsy McKinney enjoyed representing WACA at this event and learning more about the increasing global economy of Austin.